Stratosphere brings multiplayer tower defense to the iPad, combining both defensive and offensive strategic gameplay. Grab one side of an iPad and play as one of three unique teams, taking on your opponent with 12 different creatures that you can send to assault their gates.
Stratosphere was designed from the ground up for iPad, to turn it into a real-time, interactive board game. Pick a side of the iPad and begin placing sentry turrets to defend your gate, and send waves of creatures to overwhelm your opponent. Feeling a bit lonely? Play singleplayer against a Stratobot to hone your skills, complete missions, and unlock awesome new modes and levels.
v2.0: Online Multiplayer is Here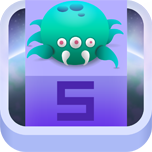 Stratosphere has received a free update with a brand new online multiplayer mode! Challenge your Game Center friends, or find a game with matchmaking, and prove that you are a Stratomaster.
With social level selection, online chat, and a brand new ranking system, the new online mode is a huge addition, but version 2.0 expands the game even further. Customize every monster in the game with unlockable costumes, play the new level "Shattered Walkway", check out Stratosphere's monsters and towers in the new almanac, unlock achivements and much more.
Leave your email below and we'll make sure you're the first to know about new Pixile games!
Enter the world of Stratosphere where three alien races fight for space on towering spires above a polluted alien world.
Michael visits the TWiT Brick House in Petaluma and plays a game of Stratosphere with Leo Laporte.